Total Password Benefits
Complex password generator
Automatic sync to all devices
Save unlimited passwords
Secure credit card storage
AES-256 encryption
Highlight vulnerable accounts
Two factor authentication
Autofill and autosave
Password breach monitoring
Login with biometrics
No more forgotten passwords
Available on desktop, IOS & Android
Zero-knowledge architecture
30-day-money-back-guarantee
24/7 support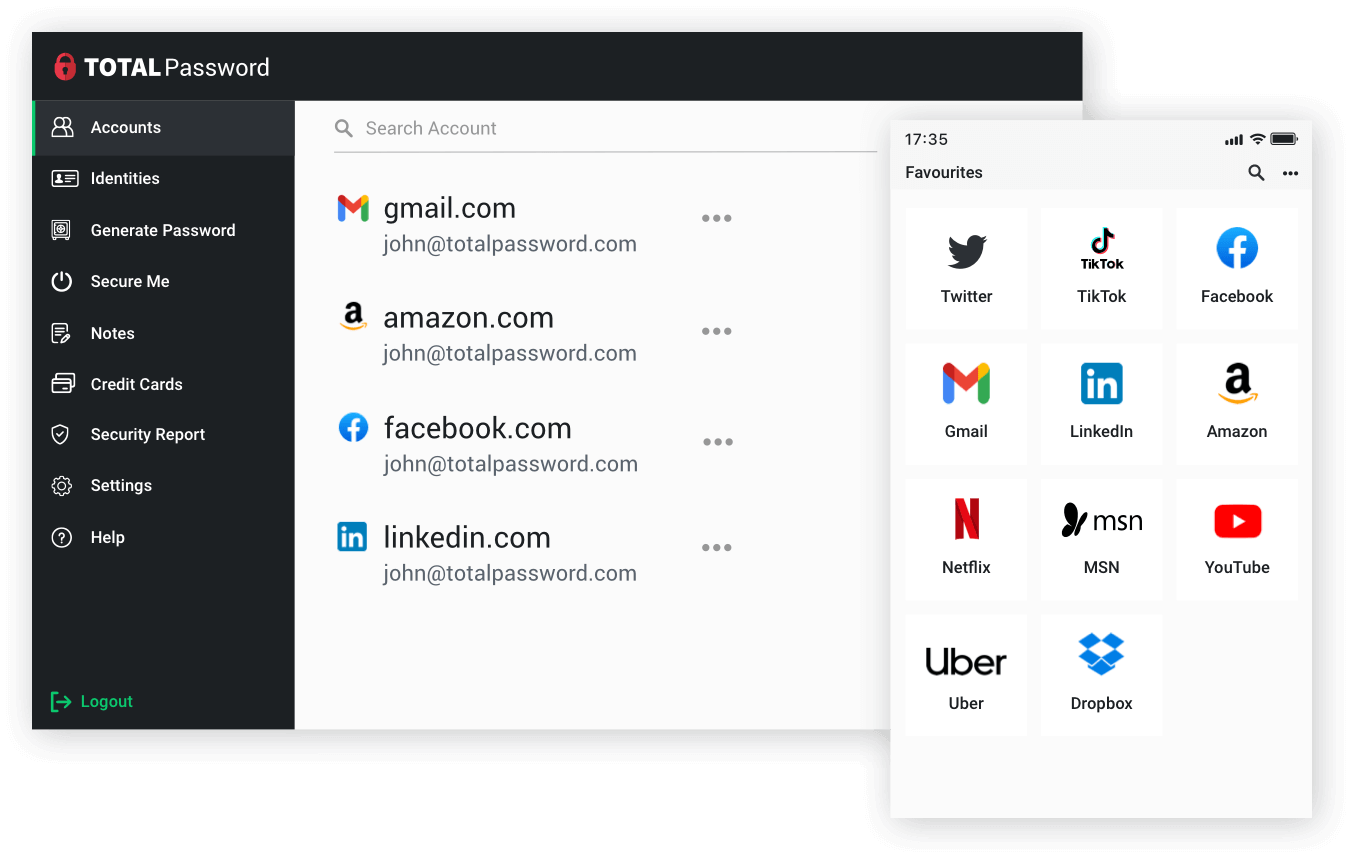 Protect Your
Digital World
Take the first steps to protecting all of your online accounts with Total Password for only $19
We Take Your Online Security Seriously
Device Sync
Access your online accounts on the move, with automatic sync across all your devices.
Breach Alerts
Stay on top of any data breaches which could expose your private data such as account passwords.
Remote Logout
Remotely sign out and delete any browsing history from any device you have Total Password on.
Generate Unique Passwords
Generate unique, secure and strong passwords to eliminate the chances of identity theft.
Store Credit Cards
Keep your bank card numbers safely in Total Password for quick online checkout.
Auto Filling
Let us automatically fill you usernames and passwords speeding up your login.
Security Enhancements
Online Protection doesn't just end with a Password Manager, at Total Password we have a wide range of features available for you to use.
TotalAV
Award-Winning Antivirus, trusted by millions of users for advanced, dynamic, around-the-clock protection.
Total Adblock
Say goodbye to those pesky adverts that invade your screen and diminish your browsing experience.
Total WebShield
WebShield works without rest to safeguard against all manner of cyber threats.
Safe Browsing (VPN)
Encrypt your browsing data, become anonymous and impossible to track or hack.
Wait! Before you leave...
Save
80%

On Premium Today

Secure Password Mananagement & Identity Protection for Only $19 /year!